Useful features in Windows 10
In Windows 10, we have received several updates which enhanced our user experience with its features that were introduced to the updates. We can always expect to get more useful features from Microsoft in future updates. We love to work with Windows 10 PC, but what if you come to know about some cool features of Windows 10 that can make your work easier. In this article, I will talk about '10 cool features in Windows 10'. You may be familiar with some of the features, check out the below Windows 10 feature and let us know in the comment section which features you found useful.
1. Kaomoji
The Kaomoji feature was made available in the May 2019 update of Windows 10. Now we can use on any app or send Kaomoji while communicating on PC, Microsoft introduced the same emoji shortcut (windows+period) for kaomoji characters. You can use Kaomoji in any app upon pressing WIN + . (the period punctuation mark) key. The Emoji, Kaomoji & Symbols options are available in one place under the different tap. So it has become easier to find Kaomoji while communicating or using any windows app.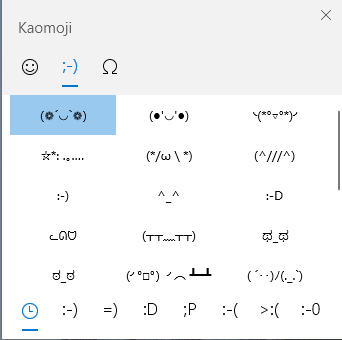 2. Focus assist
previously we had the 'Quiet Hours' feature but after the 2018 update of Windows 10, the Focus assist feature replaced Quiet Hours adding more useful features. Focus Assist feature allows you to choose notification see and hear in your notification center as per your choice to stay focused on your work. You have three options to choose, i.e, Turn Off, Priority Only and Alarms Only. If you turn off then you will see all the notification from your contacts and apps, Selecting 'Priority Only' lets you see only the selected notification from the priority list and if you select 'Alarms only' then all the notification will be hidden Except alarm. So, you can pick notifications to see using the 'Focus Assist' feature and others will go straight to the action center where you can see them whenever you want.
3. Dynamic Lock
The Dynamic Lock feature allows you to automatically lock your device when you're away. This feature helps you to keep your Windows data secure, you only need to follow a few steps to set up your phone with Dynamic Lock on your PC. Once you complete the steps, it will lock your PC automatically when your Bluetooth phone is out of range. You can check here "How to set Dynamic Lock in Windows 10" and apply it on your Windows 10 PC to keep your data safe.
4. Dictation
The Dictation function helps us to type text with our voice on any text field. To use this feature you need to turn on Online speech recognition from settings. You can follow the steps to turn on speech recognition and use Dictation, Windows settings > privacy > speech > Online speech recognition. Now just press the 'Windows + H' key on any text field to use Dictation. This feature will be useful if you don't want to type long text, simply use dictation after pressing the 'Windows + H' key and speak on any text field on Windows 10 to input text.
5. Phone Calls
Now you can allow phone calls from your Windows 10 PC using the available app. To make a call you need to link your phone to the PC and then allow the apps to make phone calls from Windows settings > privacy > Phone calls (under app permissions). Next, You have to choose and turn on the apps that can make calls out of the available apps. You can use the 'Your Phone' app available on Windows 10 and download the 'Your Phone Companion – Link to Windows' app on your smartphone if you an Android user.
6. Timeline
This is one of the best features that was added in this Windows 10 April 2018 update. You will find all your recent task and the task you have done earlier in the timeline. For more days, you can also switch on the Task view and see the previous activities for up to 30 days. The search option can be found on the right side from where you can search for your tasks. You can either add New desktop or move from one desktop to another from the option on Timeline. So, the timeline feature helps us to create or switch between desktop and view our recent task. The timeline feature can be considered as one of the useful features in Windows 10.
7. Mobile Hotspot
The Mobile Hotspot allows you to share your internet with the mobile device when your Windows PC is connected to any internet connection. The Mobile Hotspot option is very easy to use and can be set up in just a few steps, check here to know how to connect your mobile to the Windows 10 PC internet.
8. Snip & Sketch
This tool helps you to capture screenshots, photos, etc. add a note with pen, touch, or mouse and then save, paste share with other apps. Press the Windows key + Shift + S to quickly snip and share a screenshot. You can capture Rectangle Snip, Freeform Snip, Windows Snip or take Full-Screen Snip to edit with the available tools or save and share. This app will be useful if you wish to capture some important parts on your screen.
9. Search Windows
After Microsoft introduced the Searching Windows features, it became a very helpful feature for users. Now you have two options to find files under 'search settings' i.e, Classic and Enhanced. If you choose the 'Classic' option it will only search your libraries and desktop whereas if you select the 'Enhanced' option, It will let you search your entire PC as well the libraries and desktop. You also have the option to customize and exclude the search location below the enhanced option. The Search windows feature can be considered as a useful feature in Windows 10 also under search setting, you can manage permission for a safe search.
10. Custom Theme
Set up the theme for Light or Dark mode when operating on your PC is one of the best features of windows. Under Theme settings, you can customize your theme by choosing theme color, Windows mode, App mode, Transparency effects, etc. If you want to work with low light for a long period of time, you can choose Dark Mode or custom color for your comfort.
The mentioned above are the '10 Useful features of Windows 10′ that I find very helpful in my work and I think it will also be useful to you. Comment below if you have any suggestions or searching for more tips for Windows 10. In my future blog, I will notify you about additional tips and useful new features in Windows 10.